Neoprene Rubber Knee Boots
with Safety Steel Toe
ASTM F2413-05
A few sizes remain in stock that are Made in U.S.A.
They Also Meets the Canadian

Standard CAN/CSA Z195-02
Neoprene rubber is softer, lighter, and more pliable; furthermore, it is far more resistant to many organic and inorganic acids, chemicals, and contaminants than ordinary rubber. It is a better insulator, as well.
Click eBay button to see more products.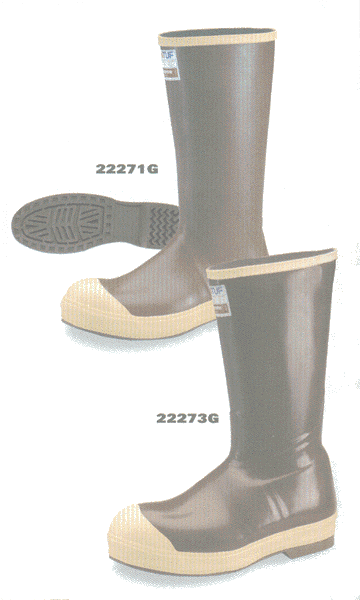 Nelson Shoe Store
127 South Cedar Street
Manistique Michigan 49854
---
22271G - Un-insulated
16" Copper Tan Neoprene Safety Boots
Non-insulated
Safe Toe steel toe cap.
Chevron outsole and heel.
Men's whole sizes 3-15
 

Do you want the soft toe version of these boots? Go There

---
22273G - Insulated
As seen on Discovery Channel's Deadliest Catch
16" Copper Tan Neoprene Safety Boots
Insulated, Polymeric Foam
Safe Toe steel toe cap.
Chevron outsole and heel.
Men's whole sizes 3-15



 

Questions about these
Safety Toe Neoprene Rubber Knee Boots?
1-800-642-0393 Toll Free
9AM-9PM eastern, please
URL: http://www.manistique.freeservers.com/xtstneop.html
page refreshed on: 1:52 PM 5/26/2012


Chemical Resistance Comparison CHART
Nelson Shoe Store:
Products:
Nelson Shoe Store stocks a variety of footwear which ranges from work styles, to leisure styles, to dress up styles.

Brands:

Double-H........(western and urban boots)
Florsheim.......(dress & casual mens')
Hush Puppies.....(mens' and wos' variety)
Irish Setter.......(outdoor sports, work & casual)
Juniper Ridge.....(aromatic cedar shoetrees)
LaCrosse...........(rubber & leather footwear)
LB Evans..........(house slippers)
Merrell.......... (get out-of-doors)
Naturalizer........ (dress & casual)
New Balance....... (athletic)
Nurse Mates...... (duty shoes)
Ranger..........(rubber footwear)
Red Wing...........(work boots)
Sebago...........(loafers & deck shoes)
Servus.......... (galoshes & overshoes)
Soft Spots.........(casual and tailored womens')
Tingley..........(stretch rubber overshoes)
Wolverine.........(work shoes)
Worx.............(work shoes)
XTRATUF.............(neoprene rubber footwear)

 


Visit my eBay store