Neoprene Rubber Knee Boots
Made in U.S.A.
Nelson Shoe Store
127 South Cedar Street
Manistique MI 49854
Neoprene rubber is softer, lighter, and more pliable; furthermore, it is far more resistant to many organic and inorganic acids, chemicals, and contaminants than ordinary rubber. It is a better insulator, as well.
Click eBay button to see more products.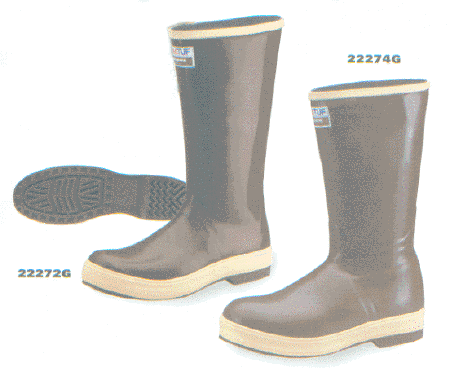 ---
22272G 16" Un-insulated
Copper Tan Neoprene Boots
Chevron outsole and heel.
Men's whole sizes 3-15

---
22274G - 16" Insulated
Copper Tan Neoprene
Insulated, Polymeric Foam
Chevron outsole and heel.
Men's whole sizes 5-14
Do you want the safety toe version of these boots? Go there

---

Do you have Questions
about these american made
neoprene rubber knee boots?
e-mail the proprietor or
1-800-642-0393 Toll Free
9AM-9PM eastern, please
URL: http://www.manistique.freeservers.com/xtptneop.html
page refreshed on: 1:51 PM 5/26/2012


 

less costly womens' rubber boots
Chemical Resistance Comparison CHART
Visit my eBay store